Repertoire für Ball, Trauung, Hochzeit, Party und Firmenfeier
Mit über 200 Songs gibt es für jeden Anlass die passende Musik. Entdecken Sie das vielseitige Repertoire bzw. die Songliste als Download. Tanzmusik, Partymusik, Swing, Hintergrundmusik, Lounge Musik, Stimmungsmusik, Charts, Soul, Rock, Rock´n´Roll, Austropop, sowie Deutsche Popmusik, Oldies, Schlager, Trauungsmusik, Dinnermusik, Französische Musik, Unterhaltungsmusik, Klaviermusik und Christmas Songs.
Musikprogramm: Band mit Sängerinnen
Austropop/Deutsche Popmusik/Oldies
I´m from Austria – Rainhard Fendrich
Tu es – Lemo (Sommerhit 2023)
Marie – Alle Achtung (Sommerhit 2020)
Ham kummst – Seiler und Speer
Du entschuldige i kenn di – Peter Cornelius
Cordula Grün – Josh
Expresso & Tschianti – Lemo
Macho, Macho – Reinhard Fendrich
Eine ins Leben – Pizzeria & Jaus
Lets twist again – Chubby Checker
Tipitipitipso – Caterina Valente
u.v.m. von  Connie Francis, The McCoys …
Brenna tuats guat – Hubert von Goisern
Wilds Wasser – Die Seer
Er hat ein knallrotes Gummiboot – Antonia aus Tirol
Aber bitte mit Sahne – Udo Jürgens
Ein Bett im Kornfeld – Jürgen Drews
Ab in den Süden – Buddy
Zillertaler Hochzeitsmarsch – Zillertaler Schürzenjäger
Er gehört zu mir – Marianne Rosenberg
Atemlos – Helene Fischer u.v.m.
A Child is born
Christmas Time is here
Last Christmas
Merry Christmas everyone
Rockin´ around the Christmas Tree
Rudolf, the red nosed Reindeer
Santa Claus is comin´ to Town
Winter Wonder Land u.v.m.
Deutschsprachige Songs/Pop
Ich und Du – Mark Forster
Nie mehr ohne di sei – Seer
Make you feel my love – Adele
Marry you – Bruno Mars
Perfect – Ed Sheeran
Tage wie diese – Die Toten Hosen
The Rose – Bette Middler
You are the Reason – Calum Scott & Leona Lewis
You raise me up – Josh Groban /
Ich sage ja – H. Fischer
u.v.m. von Nora Jones, Leona Lewis
Ain´t no mountain high enough – Dionne Bromfield
Halleluja – Leonard Cohen
Halt mich – Herbert Grönemeyer
Oh happy day aus Sister Act
u.v.m. von Starlight Express, Whitney Houston
Die fabelhafte Welt der Améli – Yann Tiersen
Forrest Gump – Alan Anthony Silvestri
River Flows in You – Yiruma
u.v.m. von Elton John, Billy Joel
Klassisch/kirchliche Lieder
Ave Maria
Hochzeitsmarsch
Du bist das Licht der Welt
Ehre sei Gott in der Höhe
u.v.m. von Pachelbel, Beethoven
Musikprogramm: Akkordeon Solo & Unplugged Trio (Saxofon/Querflöte, Akkordeon, 

Kontrabass)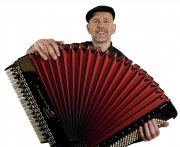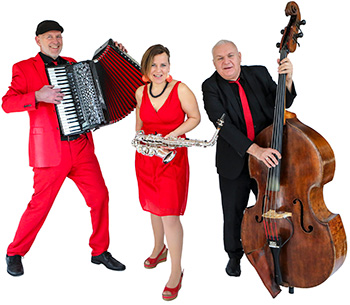 Französische Musik, Tango
Cest si bon – Eartha Kitt
La Cumparsita
Jalousie
Sous le ciel de Paris – Hubert Giraud
u.v.m. von Édith Piaf, …
Blue Moon – Billie Holiday
Pink Panther – Henry Mancini
Sunny – Bobby Hebb
Boogie Medley
u.v.m. von Elvis Presley, Champs (Tequila)